Pediatric Dentist In Saratoga Springs
Do your children need a dentist who is great with kids? Have you wanted to find a pediatric dentist who offers compassionate care? Look no further! Our staff at Saratoga Springs Dentistry has always been keenly focused on ensuring the comfort of your child during each and every visit.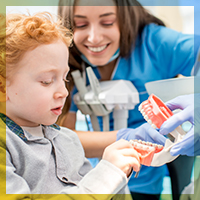 From the appearance of your baby's very first tooth to the removal of your older teen's wisdom teeth, we strive to offer the very best in oral health care for your entire family. Children often present dental issues that aren't often seen in adults, making it imperative that you choose a dentist who specializes in youth dentistry. Our staff understands the specific challenges of pediatric dentistry, and we work with anxious children with patience and sensitivity. With some children, even basic cleanings can be frightening. As Sarasota Springs' most respected children's dentist, we work to not only allay your child's fears, but also to make going to the dentist a fun and enjoyable experience for them.
Protect your little one's precious smile with routine exams, cleanings, and x-rays at our local pediatric dental clinic. We also offer more extensive dentist services if and when they are needed. Acting with integrity and transparency, we'll never recommend dental work that is not absolutely necessary. The intent of our entire staff is to build long-lasting relationships built on mutual trust.
Coupling our cutting-edge techniques with state-of-the-art equipment, we offer local families experienced, knowledgeable and effective dental care services. Our goal is to exceed your every expectation and to change what you think you know about pediatric dentistry. Find out why so many parents continue to choose us as their children's dentist by scheduling an appointment with us now.